Demolition hull
Part of white skip hire Hull and works side by side as a sister company is a solutions orientated company that prides itself upon safety issues whilst fulfilling our clients deadlines & schedules. By pro actively seeking to only employ trained, experienced & competent operatives, we are rapidly building upon our reputation as one of the most efficient & reliable companies in the industry.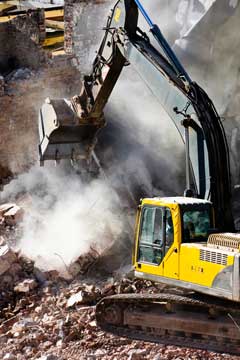 Hull demolition carries out demolition, dismantling, materials re-cycling operations & associated landscaping and civil engineering projects. We pride ourselves on maintaining the highest standards in every aspect of our business. By paying attention to all the details on each & every job we consistently out perform our competitors.
Hull demolition are committed to the reduction of waste material disposed of at landfill sites by our continuing recycling program. Less than 5% of materials are removed as waste to landfill. Brickwork, concrete etc are crushed and graded on site for use as sub-base fill material. Roof slates, tiles, timber bricks and steel are salvaged and removed for re-use. The companies "carbon footprint" is further reduced by recognizing that care for the environment should be an integral and fundamental part of the business.
Day to day demolition business is undertaken by our Directors who between them ensure that each & every contract is delivered not only to schedule but also within the clients budget.
Demolition site supervision, site safety issues, interfacing with clients site representatives are carried out by our site management staff & overseen by our Managing Director who has over 30 years experience within the industry. Because of our MD's hands on approach, our clients benefit by having a consistent point of contact.
Hull demolition employs carefully selected trained, experienced & competent operatives including demolition & plant operatives. Our aim is to introduce young operatives and provide all the necessary training to enable them to progress within the industry.
We operate with insurance cover that is specific to the demolition trade. We can of course adapt this cover to suit clients specific requirements.
Demolition Services
Demolition is the process of the controlled dismantling of a building or structure. Often a building may contain asbestos material and this material needs to be safely contained during the dismantling process. Depending on the size and position of the structure, different methods of demolition may be employed. Large, tall buildings are often demolished using a controlled explosion to reduce them to rubble which can then be removed from site. Smaller buildings can be dismantled using high reach machines to cut and remove the building, section by section.
Once a building has been dismantled, the concrete footings need to be removed in preparation for the land to be developed. This is done by breaking the concrete into manageable pieces, allowing the removal of any reinforcing materials at this point. Once the concrete has been broken up, it is then crushed by passing it through a crushing machine. The result is a material that can then be reused in future construction, in road building, for paths, car parks, or hard standing.
When any building is demolished, it is important that we should aim to recycle as much of the material as possible. Existing bricks are cleaned and packed for resale, steel and metalwork is salvaged for scrap and concrete material crushed and reused. By efficiently recycling all the components of the old structure, landfill can be kept to a minimum and costs can be reduced.
Typically, materials to be reclaimed include, bricks, roof tiles, slates, floor tiles, steel , stone work, timber, metalwork, piping and ductwork and concrete. We aim to recycle in excess of 95% of any structure