Real turf suppliers Hull and Beverley Yorkshire


Turf supplier hull and Beverley
Turf grass supplier Hull and Beverley
Grass Turf Hull and Beverley
White skip hire offers a high-grade turf we also deliver throughout Hull and surrounding area.

Our turf is the absolute best quality available we will not send a roll of turf to a customer till we have checked the
quality for a thick even coverage on every roll.

The real turf is made from a special mix of high-grade seed

slender creeping red fescue
brown bentgrass
Rye
zoysia
st. augustine

Our blend of seed we used gives our turf great durability and as out turf is direct from the farm the same day as its delivered

We are Hulls no 1 cheap turf grass suppliers Hull
Cheap turf Hull / Beverley
Delivered £5 / 1 roll collected from our yard £5 a roll and is 1 per square metre
We also offer a large range of artificial grass and Astroturf in the Hull area.
Our artificial turf is cheap without compromising on quality we import directly from farmers so we can supply full rolls to trade or the public.
There is also a laying service available through one of our partners.
To order your turf online please click here

Laying and caring for live turf
Identification
Is your soil prepared for new turf?

Do you have the correct amount of turf ordered?

Do you have the tools needed for laying turf?

Do you know how to arrange the new turf?

Do you know how to care for the new turf?
Laying your own turf can be both fun and very satisfying.
General description
Turf comes in neat, consistent rolls and is ready to lay. It is important that you do not delay in unrolling the turf. Turf should be rolled out immediately but certainly within 24-48 hours (maximum) in the autumn/winter and 12-24 hours (maximum) in the spring/summer.
The following information will get you ready to lay your new turf when it arrives:


Tools needed for laying turf
only a few tools are actually needed: a wheelbarrow to carry the turf, a rake and a spade. In addition, you should have a garden hose or watering can (small areas only) for watering.
Getting Started
Start laying the turves, preferably along a straight edge, butting closely end to end. Always unroll turf across a slope, not down it.
Each row of turf pieces should be offset by 300mm, brickwork style. Prior to rolling out the turf, lightly water the soil. Always place planks on newly laid turf for walking along and working from.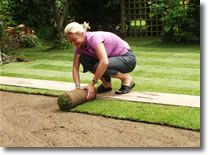 Knitting the turf together
It is important that you follow these few rules:
Start laying along a straight side in a row butt jointing the ends tightly together.
Do not stretch the turf, always push the turf into a joint. Avoid gaps, but if they do occur fill them in with a light soil/sand mixture and grass seed.

Ensure complete contact between the soil and the underside of the turf and if necessary use a flat board or head of a rake to lightly firm down the turf. Never use a roller on freshly laid turf.

Trim the ends of the turf with a long knife or hand saw to fit around trees, paths and so on.

If the outer edges of the new turf are exposed, pile a bit of soil on them to prevent drying from the sun.
Care immediately about unrolling the turf
The most important time for establishing your new turf is the first 3-4 weeks after laying. Follow these simple steps to ensure your turf grows properly:
Watering
Immediately after laying, start watering. Ensure that the new lawn is never short of water. Check under corners of the turf to confirm that water has thoroughly percolated through to the underlying soil. Water repeatedly for at least two weeks and certainly until the turf is well established. Once established, weekly watering during dry periods should be adequate.

Walk on and press down those edges in the turf that are not well seated.

Mow the lawn as soon as it grows long enough.